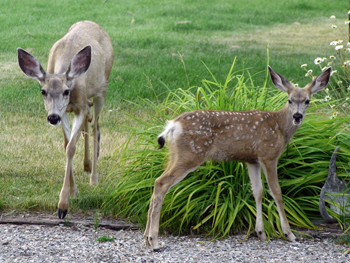 Since October 2010, the City of Cranbrook through the Urban Deer Management Advisory Committee has been working on a plan to manage the Urban Deer issue.
The City of Cranbrook recognizes that deer are a natural part of our environment and despite the fact that present mule deer numbers are considered low relative to other urban areas, anecdotal information from the public suggests that human and deer interactions in Cranbrook are increasing.
Residents continue to express growing frustration with a range of deer issues from property damage to aggression towards both pets and humans.
You will find information below about the lifecycle of mule deer, the City of Cranbrook Deer Feeding Prohibition bylaw, the diet of mule deer, information about protecting yourself and your property and a list of other great sources of material about living with deer.
The Urban Deer Committee will continue to conduct deer counts, conduct resident surveys and monitor and report on numbers & species of deer, predator sightings, complaints, incidents of deer conflict and bylaw infractions.
To report any of these things please email us at urbandeer@cranbrook.ca or call Cranbrook City Hall at 250-426-4211.
To report wildlife-human interactions where public safety is at immediate risk, call 1-877-952-7277 (RAPP)
We are also a proud sponsor and supporter of WildSafeBC.
For more information, reports and factsheets about deer, click one of the links below.

2017 Urban Deer Annual Report
2016 Urban Deer Annual Report
2015-2016 Urban Deer Annual Report
2015 Urban Deer Management Annual Report
2013 Urban Deer Annual Report
2011 Urban Deer Annual Report

City of Cranbrook Deer Feeding Prohibition Bylaw
City of Cranbrook Deer Management Strategy Report
Attachment 1 - Urban Deer Resident Survey Results Report
Attachment 2 - Urban Deer Count Results Graph
Deer Zone Map
Attachment 3 - Summary of Population Reduction Options
Attachment 4 - Urban Deer Statistics Predator Sightings (provided by MOE)
Attachment 5 - Capture and Relocate Option Information
Living With Urban Deer Information Brochure
Factsheets & Educational Reports
WildsafeBC - Wildlife Public Education Program 2019 *NEW
WildSafeBC - Wildlife Public Education Program 2018
WildsafeBC - Wildlife Public Education Program 2017
WildsafeBC - Wildlife Public Education Program 2016
WildsafeBC - Wildlife Public Education Program 2015
WildsafeBC - Wildlife Public Education Program 2014
WildsafeBC - Homeowner Checklist
WildsafeBC - Composting
WildsafeBC - Garbage
White-tailed Deer in BC
Mule Deer in BC
Feeding Wildlife Factsheet
Fertility Control Factsheet
Ministry of Forest, Land and Natural Resource Operations - Dog Hazing Urban Deer